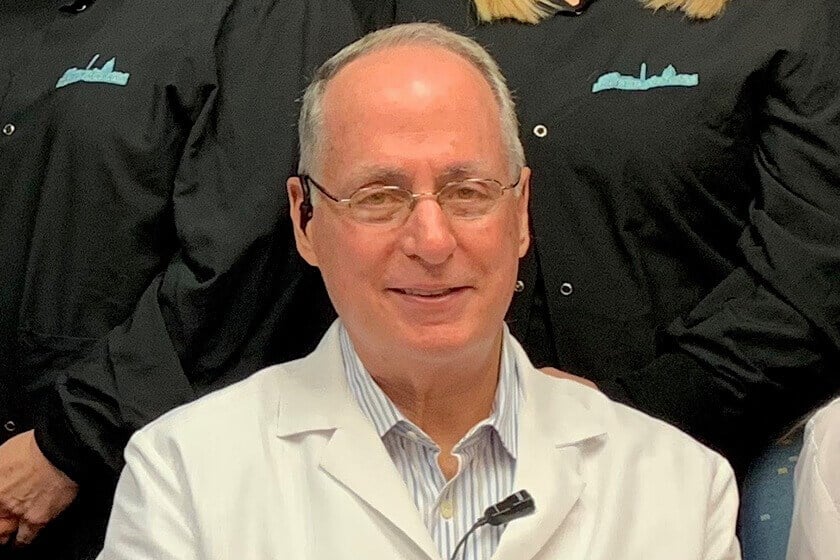 Dr. Kenneth Ingber is a leading Washington, D.C. dentist who has carefully assembled an extremely qualified and experienced dental team to provide his patients with the highest quality of dental care and outstanding smile makeover results. Accredited as one of the top-rated dentists by Washington Consumers' Checkbook, Dr. Ingber provides customized treatment plans to restore the full functionality and aesthetic appearance of his patients' smiles. At Ingber Dental, he has been serving the needs of the Washington, D.C. area cosmetic dentistry patients since 1971 and continues to offer leading-edge dental care.
Dr. Ingber is widely recognized for his unsurpassed skills, expertise, and impressive credentials. At our state-of-the-art facility, he provides advanced cosmetic dentistry, dental implants procedures as well as general, orthodontic, and restorative treatments. As a part of innovative aesthetic procedures, Dr. Ingber offers smile makeovers, dental bonding and contouring, inlays and onlays, porcelain veneers, and teeth whitening. His in-house team of surgeons are skilled at placing dental implants including All-on-4 and implant-retained bridges and dentures, for both functional and cosmetic results.
At the University of Pennsylvania School of Dental Medicine, Dr. Ingber earned his doctor of dental medicine degree. He also worked on the faculty at the University of Pennsylvania from 1971 – 1994. For his skill and expertise, Dr. Ingber was appointed as the director of University of Pennsylvania Extramural Department of Continuing Dental Education Program for the Metropolitan Washington, D.C. area and was the editor of the Journal of the District of Columbia Dental Society. Currently, he serves as the director of the International Team of Implantology (ITI) in the D.C. area.
Dr. Ingber is a member of several prestigious dental organizations, including:
American Dental Associate Lifetime Member
Academy of General Dentistry Fellow
International Team for Implantology (ITI) Fellow
American Academy of Orofacial Pain Fellow
American Academy of Cosmetic Dentistry Member
Reviews
"What a great experience! Dr. Ingber made me feel comfortable and welcome and explained everything to me as we went along. I've found my DC dentist!"
N.W.
Yelp
"What to say about Dr. P?  He is kind, thorough, fair, and very fun.  I've been his patient for over 8 years and can only say positive things about him.  His office staff are easy to deal with, he is not too difficult to get an appointment with, and I always feel very well taken care of when I'm in his exam chair. I've had two occasions to see his partner, Dr. Ingber, who was also a really wonderful dentist. If only all medical professionals could be as fantastic as Dr. P!"
E.G.
Yelp
"Dr. Ingber is an excellent dentist and this practice is superb overall. Ingber clearly knows what he is doing and takes the time to explain any process to you. I take great comfort in his knowledge and willingness to answer all my (sometimes exhaustive) questions. My teeth are in great shape thanks to Dr. Ingber and this whole practice. Look no further - you will not find a better dentist or dental practice in DC. Location is also superb with metro nearby, street parking at the right time, and paid parking directly under the building."
A.U.
Yelp
"Compassionate and conservative dentist. Full disclosure: I have high dental needs. I am not your average see-the-dentist-for-a-cleaning-twice-a-year type of patient, so over the last 5 years since i've been a patient, i've had a LOT of interactions with Dr. Ingber, Dr. P and their staff.  I have a compromised immune system and jaws of steel (read: clenching and grinding and breaking of teeth), so I've had a lot of dental work for my age...and when I have a problem with my teeth it needs to be fixed, and fast, as any infection or problem can progress very quickly into severe danger/health complication territory. Dr. Ingber is among the best dentists I've seen for my needs. I've been his patient for years now, and although their office is now out of my dental network he continues to work with me to pay for crowns, implants, mouthguards, fillings, and small cracks. He always suggests all of the options if I need work done, and lets me choose which is the best fit for my budget and my health needs.  He's fixed failed/poor dental work I had at another dentist, and preserved my tooth structure in every possible way.  He answers his cell phone on the weekend in an emergency, and Carrie, Angie and the crew will fit me in without question for an appointment, whether something is loose, cracked, painful, or needs adjusting. Dr. Ingber really does care about his patients' oral health, and his work on my teeth has been flawless and tireless.  If you just need a basic cleaning and you've never had a cavity, well, this will be a pretty easy 30 minutes spent in the chair. But if you've got high dental needs, you've delayed some complex work, or you get nervous at the dentist - Dr. Ingber really is very professional, very personable, and just the best. Going to the dentist is generally awful, but seeing Dr. Ingber isn't really so bad."
A.B.
Yelp
"I've been coming to Dr. Ingber for a few years and have had nothing but a positive experience with him, the other doctors, and the administrative staff. On the last point, I've had to cancel/reschedule at the last minute a few times, and the staff has always been great about finding me a new appointment. I've never been charged a late cancellation fee (I think they have a policy in place, but it's not enforced if you explain nicely). I also get various email/text/call reminders starting about a week before my appointment, which is helpful since most of us choose to forget that the dentist exists between teeth cleanings. In terms of the dentistry itself, I've never felt like I'm being upcharged for problems that don't exist. Granted, I have good teeth that haven't needed much beyond routine cleanings, but I've found Dr. Ingber to be attentive, thorough, and quick. I once brought up a slight shift in my bottom teeth, which had a permanent retainer on them at the time. He recommended an appointment with Dr. Porvaznik, which I was able to get on the books for the following week. Dr. Porvaznik followed the same pattern: helpful, friendly, and not pushy at all. He quickly discovered that the retainer wire was starting to lift from the back of my teeth, creating the uneven pressure that was causing the shift. He explained to me that this issue is why he doesn't recommend permanent retainers (which my old ortho had installed about 10 years ago and declared as something that would keep my teeth straight for life...guess not). He suggested doing a series of Invisalign retainers to correct the movement and then a final version to maintain the straightened teeth. Since I've invested a lot in and care quite a bit about my teeth, I agreed with this plan, expecting the additional visits and progressive retainers to cost me upwards of a thousand dollars. I was pleasantly surprised to find that the whole process came to just $200 and accomplished exactly what I wanted. I'm surprised and perplexed by some of the one-star reviews; perhaps the staff has turned over or I've simply never encountered the problematic individuals. I also know that dental patients aren't always pleasant themselves, so for potential newcomers: I'd suggest trying for yourself and drawing your own conclusions."
J.M.
Yelp
Related Posts