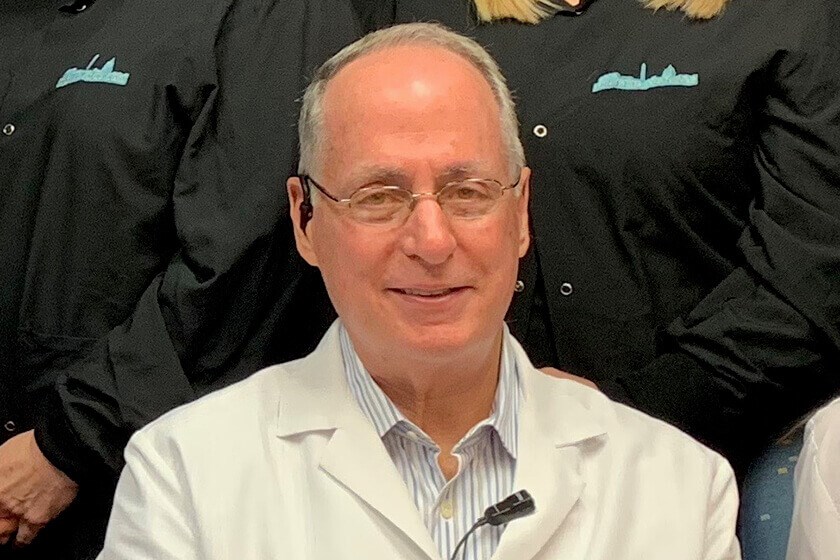 Dr. Kenneth Ingber is a leading Washington, D.C. dentist who has carefully assembled an extremely qualified and experienced dental team to provide his patients with the highest quality of dental care and outstanding smile makeover results. Accredited as one of the top-rated dentists by Washington Consumers' Checkbook, Dr. Ingber provides customized treatment plans to restore the full functionality and aesthetic appearance of his patients' smiles. At Ingber Dental, he has been serving the needs of the Washington, D.C. area cosmetic dentistry patients since 1971 and continues to offer leading-edge dental care.
Dr. Ingber is widely recognized for his unsurpassed skills, expertise, and impressive credentials. At our state-of-the-art facility, he provides advanced cosmetic dentistry, dental implants procedures as well as general, orthodontic, and restorative treatments. As a part of innovative aesthetic procedures, Dr. Ingber offers smile makeovers, dental bonding and contouring, inlays and onlays, porcelain veneers, and teeth whitening. His in-house team of surgeons are skilled at placing dental implants including All-on-4 and implant-retained bridges and dentures, for both functional and cosmetic results.
At the University of Pennsylvania School of Dental Medicine, Dr. Ingber earned his doctor of dental medicine degree. He also worked on the faculty at the University of Pennsylvania from 1971 – 1994. For his skill and expertise, Dr. Ingber was appointed as the director of University of Pennsylvania Extramural Department of Continuing Dental Education Program for the Metropolitan Washington, D.C. area and was the editor of the Journal of the District of Columbia Dental Society. Currently, he serves as the director of the International Team of Implantology (ITI) in the D.C. area.
Dr. Ingber is a member of several prestigious dental organizations, including:
American Dental Associate Lifetime Member
Academy of General Dentistry Fellow
International Team for Implantology (ITI) Fellow
American Academy of Orofacial Pain Fellow
Reviews
"the best dentist i have ever had in 80 years of dental work - the best"
Anonymous
Vitals
"You can't go wrong at Ingber Dental - Ken Ingber is an excellent dentist. He is highly skilled, works with the latest technology, and cares deeply about his patients. I have been a patient forb30+ years and have never had a problem or complaint ."
Anonymous
Vitals
"Simply the best ..... - Always, always professional, kind and current on what will be the best dental care ."
Anonymous
Vitals
"On time, friendly and pleasant experience"
C.C.
Google
"Great dental services (cieamund, Digital Crown) as always. The staff at the front go above & beyond in accommodating busy and shifting schedules. The new Digital Crown technology Dr P used had me in an out with a new crown in 2 hours!!"
T.D.
Google
Related Post