Porcelain Veneers Washington DC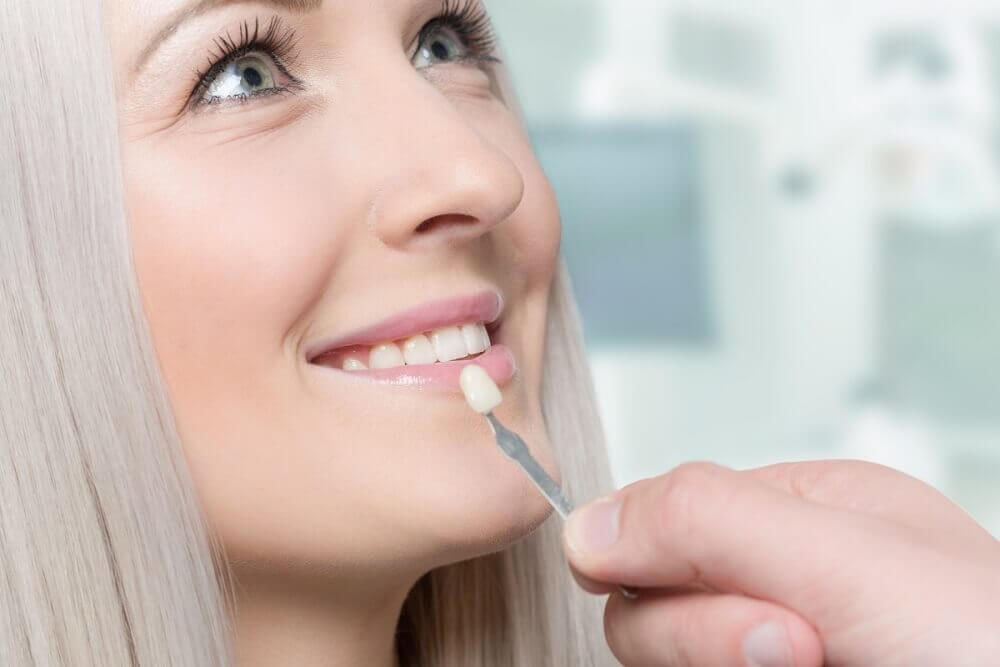 Introduction
Are You a Candidate?
The Veneer Placement Process
Recovering from Veneers
Advantages of Porcelain Veneers
Introduction to Porcelain Veneers
Dr. Ingber has helped hundreds of cosmetic dentistry patients achieve the smile of their dreams by using advanced cosmetic dentistry techniques. One of the most popular options is a type of porcelain restoration known as dental veneers.
Dental veneers are thin, custom-designed shells of porcelain bonded onto the front side of one or more teeth. When placed properly, this treatment option can correct a variety of aesthetic issues.
Are You a Candidate?
Porcelain veneers are one of the most frequently used tools in a cosmetic dentist's toolbox. These tiny pieces of porcelain can help to transform an imperfect or dull smile into an enviable one. Veneers can make teeth look straighter, more even, whiter and overall more attractive.
Although veneers are very popular, they are not right for everyone. Below, the team at Ingber Dental discusses some of the criteria that we will look for when evaluating you for porcelain veneers.
You are bothered by minor cosmetic imperfections.
The first indication that you might be a good candidate for veneers is that you have minor cosmetic imperfections in your teeth, such as chips or cracks. Perhaps your teeth are misshapen or you have an abnormally small or crooked tooth. Veneers are placed over the surface of the teeth to mask imperfections and improve the uniformity of tooth size/shape/alignment.
You have stubborn tooth stains.
Another indication that porcelain veneers may be a good option for you is that you have stubborn tooth stains that do not respond to teeth whitening treatment. Instead of lightening the stains, porcelain veneers completely cover them up, creating a bright, white smile.
Your teeth are generally healthy.
Our dentists do not place veneers over teeth that are severely cracked or have serious damage or decay. We also will not place veneers if you have gum disease. In those cases, we would want to correct and treat the damage, decay or disease before proceeding with the placement of the veneers.
You are diligent about brushing and flossing your teeth.
Veneered teeth must be brushed and flossed daily and checked by a dentist regularly. When evaluating you for porcelain veneers, our team will want to ensure that you already practice good oral hygiene habits. Being diligent about brushing and flossing can prolong the life of your veneers.
You don't clench or grind your teeth at night.
If you know that you clench or grind your teeth at night, you might not be an ideal candidate for veneers. Although strong, veneers can be chipped or broken by the pressures of constant tooth grinding or clenching. If you only grind while you sleep, we may recommend you wear a night guard to protect the integrity of your veneers.
The Veneer Placement Process
If you desire a smile that looks uniform and even, porcelain veneers are probably a good option for you.
First, you will visit Dr. Ingber's practice to plan and prepare for veneer placement. He will ask you to describe your ideal cosmetic outcome, and will take impressions to help the laboratory craft your veneers. He may remove a small bit of tooth structure to make room for the veneers ("no-prep" veneers do not require any tooth structure to be removed). Then, Dr. Ingber will place temporary veneers for you to wear while your permanent set is being fabricated.
When your permanent veneers are ready, you will return to Dr. Ingber's practice for another visit. He will remove the temporary set and bond the permanent veneers into place. He will make any last-minute adjustments for fit and comfort, and polish the veneers so they blend in seamlessly with your surrounding teeth.
Recovering from Veneer Placement
Veneer placement is minimally invasive and does not require any recovery. You can immediately begin to enjoy your beautiful new smile. Brush and floss your teeth normally and be sure to schedule regular check-ups and exams with Dr. Ingber at his dental practice in D.C.
Advantages of Porcelain Veneers
One of the primary advantages of porcelain veneers is the material. Porcelain is a strong, stain-resistant material that lasts for many years with the proper care. Because of your veneers' durability, you can continue to enjoy your favorite foods without worrying about breaking the restorations. Also, unlike other dental restorations such as crowns, veneers do not require a significant amount of tooth structure to be removed before placement.
The veneer placement process is quick and convenient. It typically only requires two visits to Dr. Ingber's practice, so he can fit you for the veneers and then place them once they are ready. Veneers are custom-crafted to blend in beautifully with your surrounding teeth. Most people will not be able to tell the difference between your veneers and your natural teeth. Your smile will look naturally better. After they've been placed, you can immediately begin enjoying your enhanced smile without any downtime or recovery.
Learn More about Porcelain Veneers
To learn more about porcelain veneers and how they can help revitalize your smile, please call Dr. Ingber's practice at (202) 331-7474 or send us an email.
Before & After Porcelain Veneers
Washington D.C. patients and potential candidates can visit our before and after gallery to see the natural looking results of dental veneers.