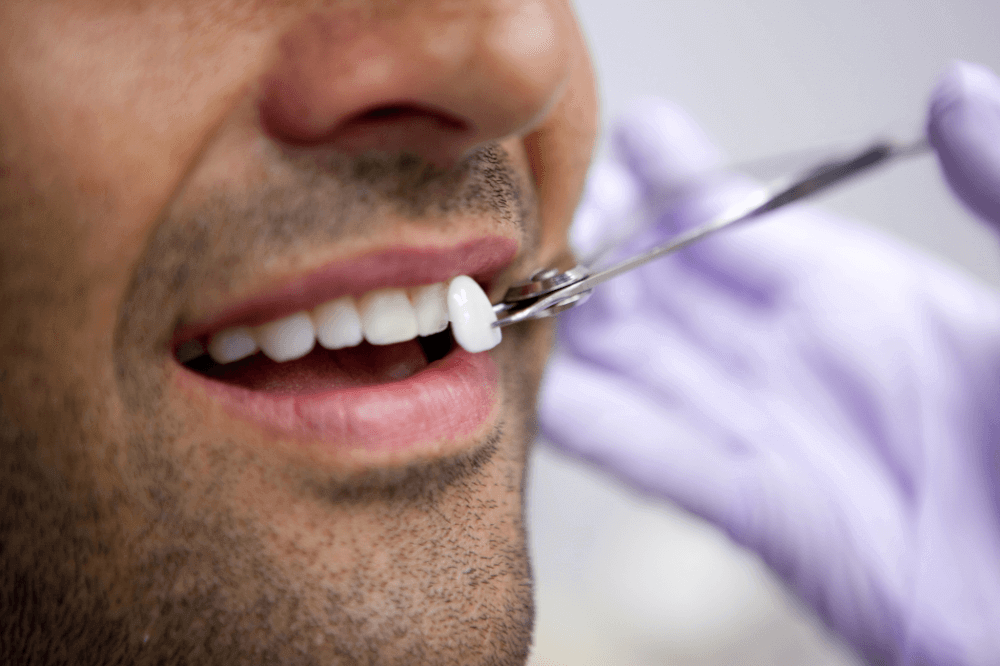 Washington, D.C. cosmetic dentist Kenneth Ingber likes to use porcelain veneers to conceal small imperfections in his patients' teeth and improve the uniformity and evenness of a smile. These small "shells" of porcelain are cemented onto the front of the teeth and are extremely strong and long-lasting. Dr. Ingber's technical expertise and innate eye for artistry helps him to produce results that look natural and beautiful.
Wondering if porcelain veneers are a good option for your personal needs and goals? Let's look at some of the ways that porcelain veneers can improve your smile.
Cover stains or discoloration in the teeth. The porcelain will be color-matched to your surrounding teeth so it will blend in beautifully, while covering areas of the teeth that are stained or discolored.
Mask small cracks or chips. When bonded to the tooth structure, a porcelain veneer will conceal minor chips or cracks that are cosmetically unappealing. (For more substantial chips or cracks, Dr. Ingber may recommend a dental crown, which completely encapsulates the tooth to provide strength and support.)
Revitalize the appearance of worn teeth. In aging adults, the teeth can sustain significant wear and tear over the years. A set of porcelain veneers will rejuvenate the appearance of the teeth and hide any signs of deterioration.
Improve the uniformity of uneven teeth. Veneers will even out a set of teeth that differ in size and shape. Veneers are fabricated very carefully, based on Dr. Ingber's specifications for your case.
Give you a movie-star smile. If you've ever wondered how your favorite movie stars attain their perfect smiles, porcelain veneers may have been part of the process. Have your own set placed and prepare to feel like a celebrity!
Advantages of Porcelain Veneers
One of the advantages of porcelain veneers is the material. Porcelain is a strong, stain-resistant material that lasts for many years with the proper care. Because of your veneers' durability, you can continue to enjoy your favorite foods without worrying about breaking them. Also, unlike other dental restorations such as crowns, veneers do not require a significant amount of tooth structure to be removed before placement.
The veneer placement process is quick and convenient. It typically only requires two visits to Dr. Ingber's practice, so he can fit you for the veneers and then place them once they are ready. Veneers are custom-crafted to blend in beautifully with your surrounding teeth. No one will be able to tell the difference between your veneers and your natural teeth. Your smile will look naturally better. After they've been placed, you can immediately begin enjoying your enhanced smile without any downtime or recovery.
Schedule a Porcelain Veneers Consultation
If you are interested in learning more about porcelain veneers and how they are placed, please contact Dr. Ingber's cosmetic dentistry practice by calling (202) 331-7474 or by sending us an email.