Enjoy Your Favorite Summer Foods with Dental Implants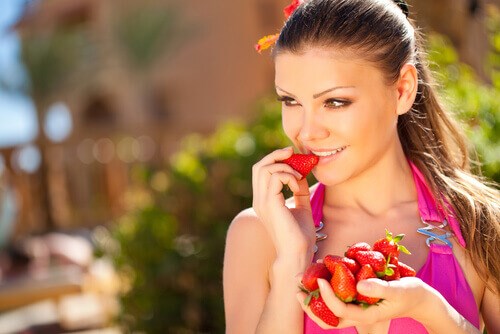 Summer is almost upon us! To many people, the summer months just aren't complete without eating a ripe peach, tender steak off the grill or juicy hotdog at the ballpark. Unfortunately, one or more missing teeth can significantly impede chewing ability and limit a diet to only soft (read: boring!) foods.
Don't let a missing tooth hold you back from enjoying your favorite summer foods — consider restoring the form and function of a missing tooth with a dental implant. The implant placement process takes a few months; so, if you pursue treatment with Washington, D.C. dental implants provider Kenneth Ingber soon, you can celebrate the dog days of summer with a delicious steak and fresh corn on the cob!
Single Tooth Replacement
Dr. Ingber commonly uses dental implants to replace a single tooth that has fallen out or been extracted due to decay, trauma or extreme wear. When replacing a single tooth, the implant post is first placed in the jawbone underneath the gap left by the missing tooth. After the post has healed, a small piece called an abutment is attached to the top. The abutment connects the implant post to a custom-made dental crown. The crown, which is crafted from high-quality materials, very closely resembles a natural tooth's appearance, and will blend in seamlessly with the surrounding teeth.
Not only will the implant look natural and attractive, it will also function normally, allowing you to chew the tasty treat of your choice without any problems.
Multiple Tooth Replacement
Dr. Ingber can use dental implants to replace multiple missing teeth that are adjacent to each other. For example, in the case of three missing adjacent teeth, implant posts will be placed in the bone underneath the two outside missing teeth. After the posts have healed, and the abutments have been screwed onto the tops of the posts, a custom-made dental bridge will be attached to the posts. The bridge is composed of two crowns that affix to the abutments and support a false tooth in between them (which fits neatly into the center gap).
Implant-Supported Dentures
If you are missing all of the teeth on your upper and/or lower arch, and are unhappy with traditional dentures, Dr. Ingber may recommend a set of implant-supported dentures. They offer the aesthetics of a great pair of dentures with the stability of implants. Traditional dentures that rely on adhesives to stay in place are prone to slip and slide around in the mouth, often producing an undesirable clicking or popping noise.
Normally in implant-supported dentures cases, two to six implant posts are placed in the jawbone. Then, a denture appliance is clipped onto the top of the posts. You will be able to remove the denture at night to clean it and clean around the attachments.
You may not have complete freedom to eat whatever you want (some extremely sticky or hard foods can damage the dentures), but your chewing capabilities will be significantly enhanced. Dr. Ingber will give you a list of foods to avoid eating while wearing dentures.
Schedule a Dental Implants Consultation Today
If you would like to learn more about replacing a single tooth, multiple teeth or an entire arch of teeth with dental implants, Washington, D.C. dentist Kenneth Ingber would be happy to meet with you. You can also view before and after photos of his dental implants patients, here. Please call (888) 549-7682 or send our office an email to schedule a consultation.