Dental Implants Washington DC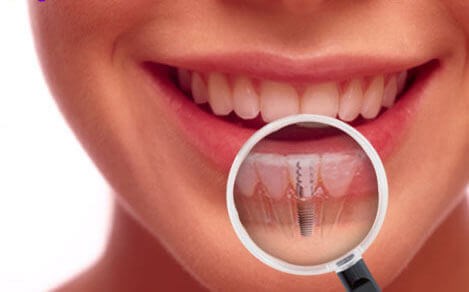 The American Association of Oral and Maxillofacial Surgeons estimates that almost 70 percent of adults between the ages of 35 and 44 have lost a tooth due to trauma, disease or decay. What's more: one in four adults has lost all permanent teeth by age 74.
Many of Dr. Ingber's patients who once struggled with a missing tooth or teeth have found great relief with dental implants. Implants are highly preferable to alternatives such as dentures, which don't offer the same stability and long-lasting results.
What Are Dental Implants?
Dental implants replace natural teeth that have fallen out or been extracted. An implant consists of two parts: a small titanium post, or screw, that functions as an artificial tooth root, and a prosthetic tooth that affixes to the top of the post.
Dental implants can support a single crown or a fixed bridge. If necessary, several implant posts can support a full set of upper or lower dentures.
Are You a Candidate for Dental Implants?
The best person to determine whether you are a candidate for dental implants is a dental professional. Dr. Kenneth Ingber likes to meet with all of his dental implants candidates to determine whether implants are suitable for their needs and goals. That being said, there are some things to consider if you are thinking about pursuing dental implants.
A Surgical Solution
Implants are designed to replicate the appearance and function of a normal tooth. If you would like to permanently replace a tooth that has fallen out or been extracted (because of extreme disease, a traumatic event or significant wear), implants might be a good option for you. However, the implant placement process is a little more complex than placing a dental crown or a veneer. It requires a surgical procedure to place the implant post in the jawbone. Therefore, if you would feel more comfortable with a non-surgical restoration option, you may want to consider something like a dental bridge or a partial denture appliance.
Sufficient Jawbone
One of the most important criteria that a dental implant candidate should meet is sufficient bone to anchor the implants in the jaw. Since the implant posts are placed in your jaw and intended to last for many years, you need to have a certain amount of healthy jawbone in order to support the posts. Not having enough bone will not disqualify you from getting implants, though. There are procedures available to rebuild the bone to prepare it for implant placement. Dr. Ingber will evaluate the quality of your jawbone during your consultation and determine whether it is sufficient for implants.
Overall Health Condition
Other important factors to consider include the health of your gums and your overall health. You should be in good physical and psychological health and not smoke, as smoking can compromise the mouth's healing process. You should inform Dr. Ingber of your medical history and list all of the medications (prescription, over-the-counter, herbal supplements) that you take. You may not think this information is relevant, but it is!
Commitment to Proper Care and Maintenance
Appropriate dental implants candidates are also willing and able to take good care of their restoration. You need to commit to maintaining your implant; this includes daily brushing and flossing, as well as regular visits to the dentist for professional exams and cleanings.
Other Considerations
You may not be a suitable candidate for dental implants if you:
Are pregnant
Smoke regularly and heavily
Have a chronic disease (e.g., uncontrolled diabetes, significant immune deficiencies)
Are young and your jawbone is still growing
Are not willing to follow Dr. Ingber's instructions, especially for implant recovery and the proper care/maintenance
Recovering from Implant Placement
Everyone recovers from dental implants treatment differently. However, sometimes minor swelling, bruising and discomfort occur. Pain medication can be prescribed to help relieve any discomfort.
You should eat a diet of soft foods only for five to seven days after implant placement.
Several follow-up visits will be scheduled to monitor your healing progress and give you the opportunity to ask questions or address any concerns.
After your implant has healed, it's important to brush and floss daily, and visit Dr. Ingber for regular check-ups and cleanings.
Advantages of Implants
Dental implants are beneficial for a number of reasons:
They are permanently implanted in the jawbone, and won't shift or slide around in your mouth like dentures.
Implants allow you to eat, speak and smile comfortably and naturally.
Because they are affixed to your jawbone, they keep the bone stimulated and healthy, preventing it from deteriorating due to lack of use.
By stimulating the jawbone, implants also help to maintain your facial features.
The artificial teeth are crafted from quality materials and look remarkably similar to your surrounding natural teeth.
Schedule a Consultation
If you'd like to learn more about dental implants, please schedule a consultation by contacting Dr. Ingber's practice today!
The History of Dental Implants
Dental Implants have been a treatment choice in modern dentistry for over 25 years. Prior to that time they were not considered to have predictable prognosis. In the early 1980s Dr. Per-Ingvar Branemark from Goteborg, Sweden developed the Osseointegrated Implant. This titanium fixture fuses, or integrates, with the jawbone.
I have had the privilege of being one of the first restorative dentists in North America to work with this dental discipline. I have been restoring dental implants since 1985. For the past 15 years my dental practice has had both an oral surgeon and a periodontist on staff to surgically place the implants which I subsequenty restore with beautiful cosmetic crowns and bridges.
What is an Osseointegrated Implant?
In its simplest terms, it is a titanium cylinder which acts as a root replacement for the missing tooth it replaces. It can serve as the support for a single implant crown or two or more can act as supporting abutments for a fixed bridge. They can also support removable prostheses such as full dentures and removable partial dentures.
It is important to realize that replacement of teeth now have a gold standard of care. Traditionally when a tooth was lost, the gold standard of care was a fixed bridge. This involved preparing the tooth on either side of the missing tooth space for crowns (caps) and fabricating a fixed bridge supported by these two adjacent teeth. If dental implants were developed prior to fixed dental bridges, the fixed dental bridge would not even be a consideration. To prepare, i.e. irreversibly remove tooth structure from adjacent teeth, could possibly be considered absurd.
How does a dental implant/implant crown/bridge happen?
It is a simple, yet sophisticated process. First, the implant is surgically placed in the appropriate sight. The second phase is restoring the implant with the appropriate restoration (e.g. a crown) or, if the patient needs several implants, a bridge. If there is insufficient bone available in which to place the implants, additional procedures are indicated to prepare the site.
Each case needs to be evaluated and planned prior to beginning implant therapy. The complexity of the particular implant treatment ranges from simple to sophisticated. We are fortunate in our office, with our experience and successes, to offer dental implant treatment from the elementary to the more complex. In addition, all of the treatment can usually be performed in our office, eliminating the usual need to be seen at different locations.
We offer a complimentary consultation at our Washington D.C. Dental Office. Please call (202) 331-7474 for more information.